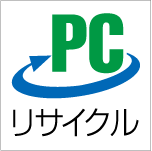 The PC Recycling Mark has been attached to household PC models sold since October 2003.
PCs with this mark will be accepted for recycling without additional charge by the PC maker.
For PCs without the PC Recycling Mark (purchase before October 2003), the customer will be required to pay collection and recycling charges.


※Although household PC models are sold with the PC Recycling Mark attached to the PC, PC makers may, in certain cases, mail the PC Recycling Mark to purchasing customers based on application.
※Please note that the Mark may not be in color in some cases.