What is PC recyclingH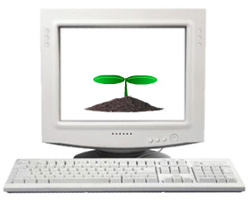 Recently, the recycling of PCs that we use at home has become a necessity. To create an environmental society for the future, PC manufacturers and users must cooperate to establish a new system under which used PCs are not thrown away, but recycled into resources.
That is the essence of PC recycling.

Why is PC recycling necessaryH
For the recycling based society of the future, it is now necessary to recycle and or reuse PCs, which are
becoming more and more common in our homes.
To that end, PC recycling, or the reuse of used household PCs began on October 1st 2003, based on the "law for promotion of Effective Utilization of Resource".
Up until now, used PCs were collected and disposed of by local authorities. But from now on, manufacturers themselves will collect used PCs, and make effective reuse of their parts and
materials.
Note the recycling of PCs purchased before the start of the PC recycling program are subject to a "collection and recycling fee", to be borne by the user. Used PCs that cannot be collected by any manufacturer, (homemade PCs, PCs whose manufacturer or importer is no longer in business) can be collected and recycled, for a fee, by PC 3R Promotion Association.
For the future of our earth, please cooperate with the program.