End-of-life PCs owned by corporate entities (such as business corporations, leasing companies, government offices, local government organizations, educational institutes, medical institutions, etc.) are collected differently from "household PCs" owned by private users. With the revision of Law for the Promotion of Utilization of Recyclable Resources on April 1, 2001, collection and recycling of end-of-life PCs from corporate entities (business users) have become obligation for the manufacturer. With the understanding and support of users, "business PC recycling" program has expanded steadily. We sincerely look forward to your cooperation in "business PC recycling," in promoting optimized recycling from the standpoint of the PC manufacturer, the 3R (reduction, reuse & recycling) and effective utilization of finite resources.

《Business PC Recycling Procedure》
Corporate PC users who wish to have end-of-life PCs collected and recycle may inquire and applied for collection and recycling directly with the manufacture. End-of-life PC collection and recycling follow the procedure shown below. In implementing this process, the corporate user will be responsible for covering the end-of-life expenses.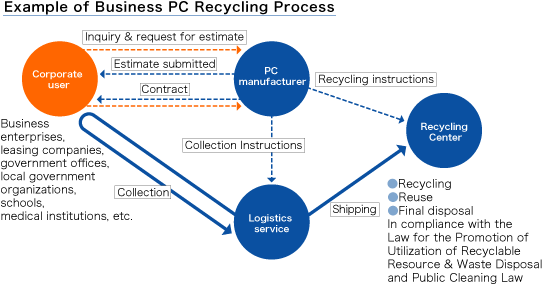 ※ Please refer to "Household PC Recycling" for recycling end-of-life PCs of private users. ※ The user is held responsible for deletion of data stored in hard disks. For further information, please refer to "Guidelines on Hard Disk Data Deletion at PC Disposal, Resale, etc." at http://it.jeita.or.jp/perinfo-e/memorycard-e/index.html